In order to facilitate users to quickly and clearly view the distribution of account assets and funds, this article will focus on the Pionex APP "Account" and "History Orders" pages to explain how to fully understand the asset overview and order information.
On the web version, you can click on the wallet "Primary account" and "Futures account" to view the account assets
How to view Account assets
The Account page in the Pionex APP helps you view the overall overview of the total assets, asset allocation, and bot orders in the account.
Primary Account
Trading bot: Including all grid trading bots, CopyBot (including structured products like High-speed flying wheel), strategy copy bot...etc.
Spot Balances: Available(Tradable) spot assets (including small assets).

Futures Account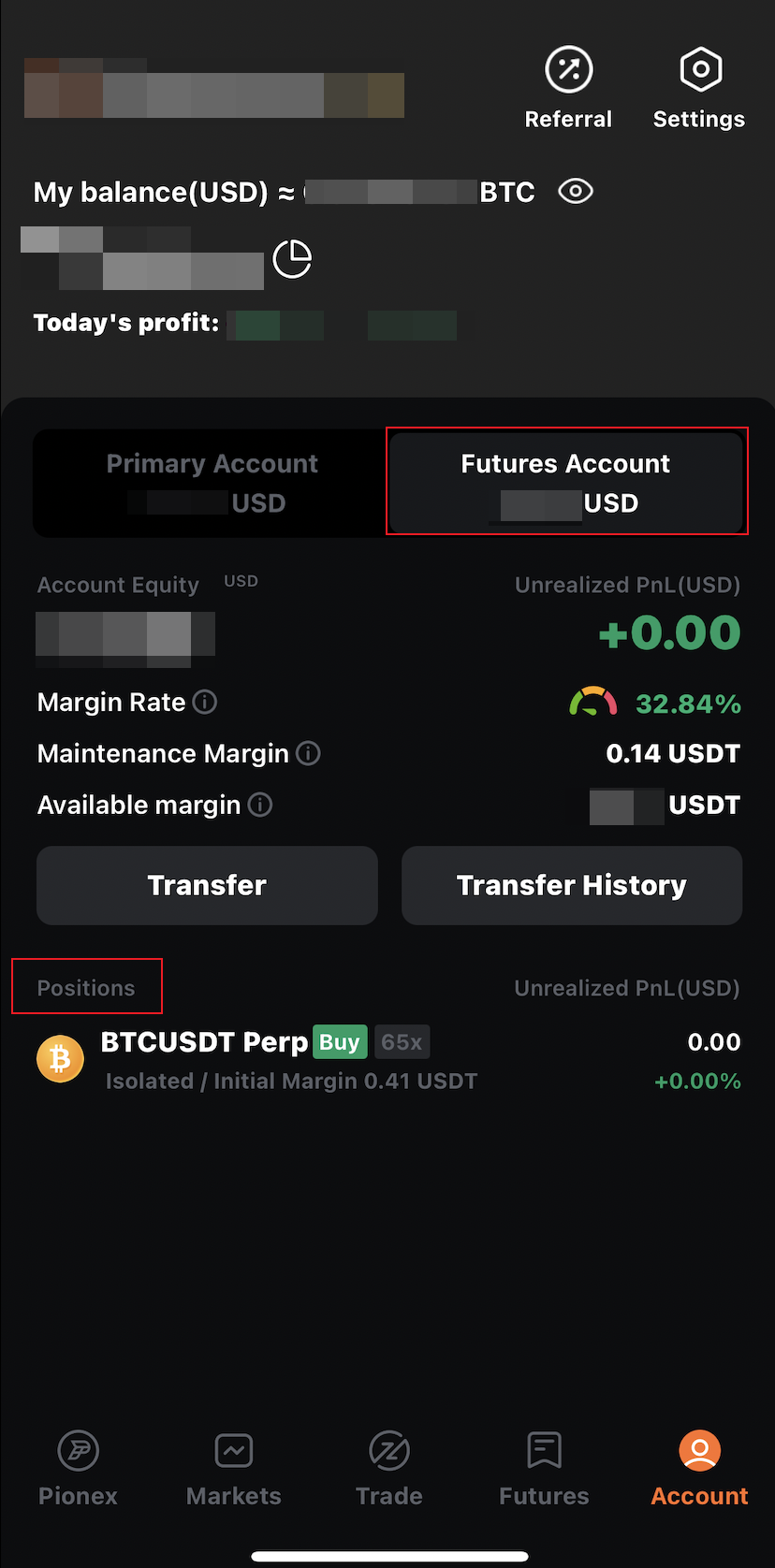 How to view orders' History
The "Trade" of the APP is divided into four pages: "Bot", "Earn", "Manual" and "Swap". You can refer to the figure below to find the corresponding product and go to the "History" page to view the details.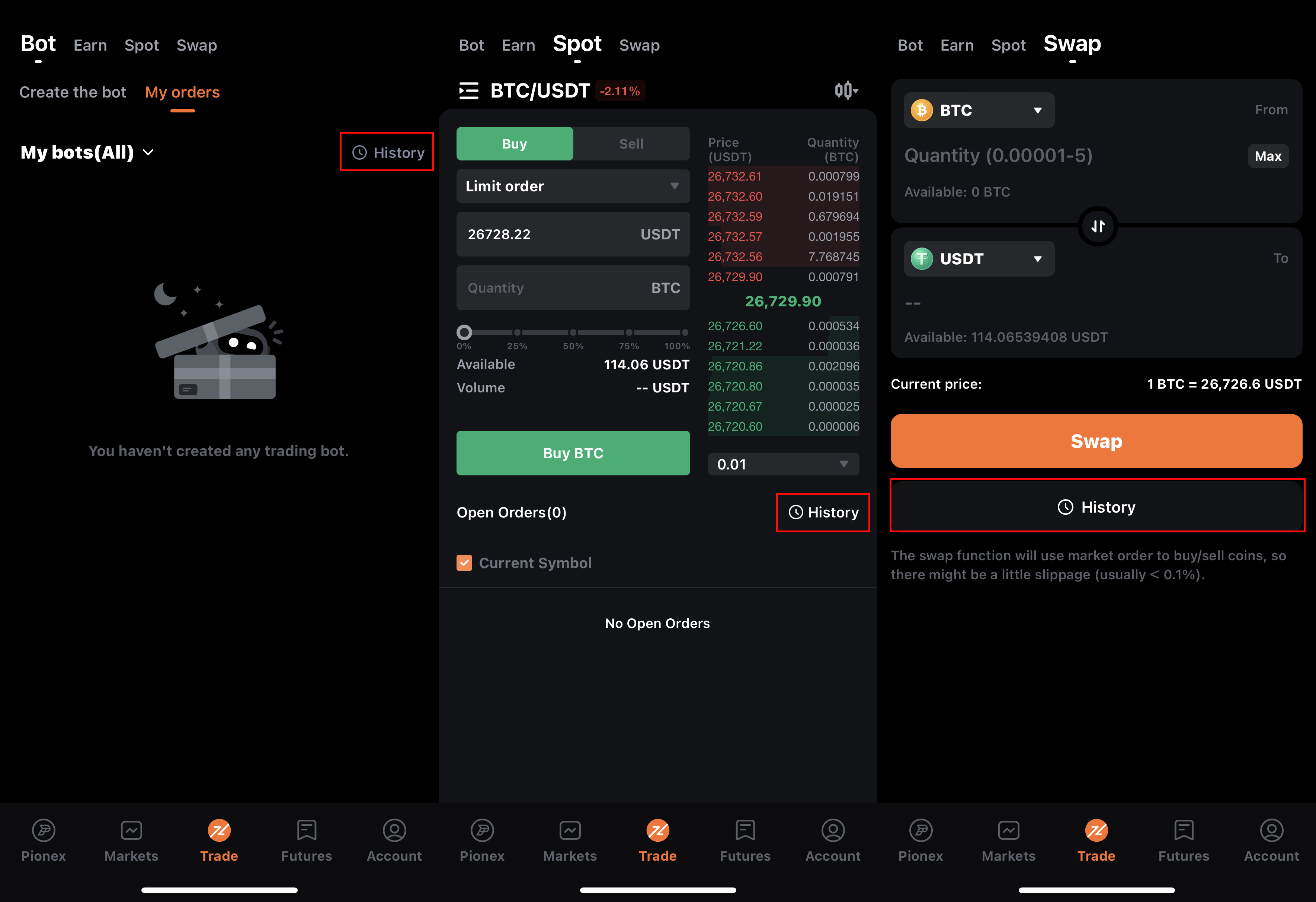 The "Earn" page is divided into five pages, in order "Structured", "Arbitrage", "Earning", "Staking", and "Lotto".
You can click on the corresponding products and view the "History"; "Earning" and "Staking" can check through the bottom of the "Account" page. Clicking on the order will jump to the corresponding block, and you will not need to manually search for information about each order.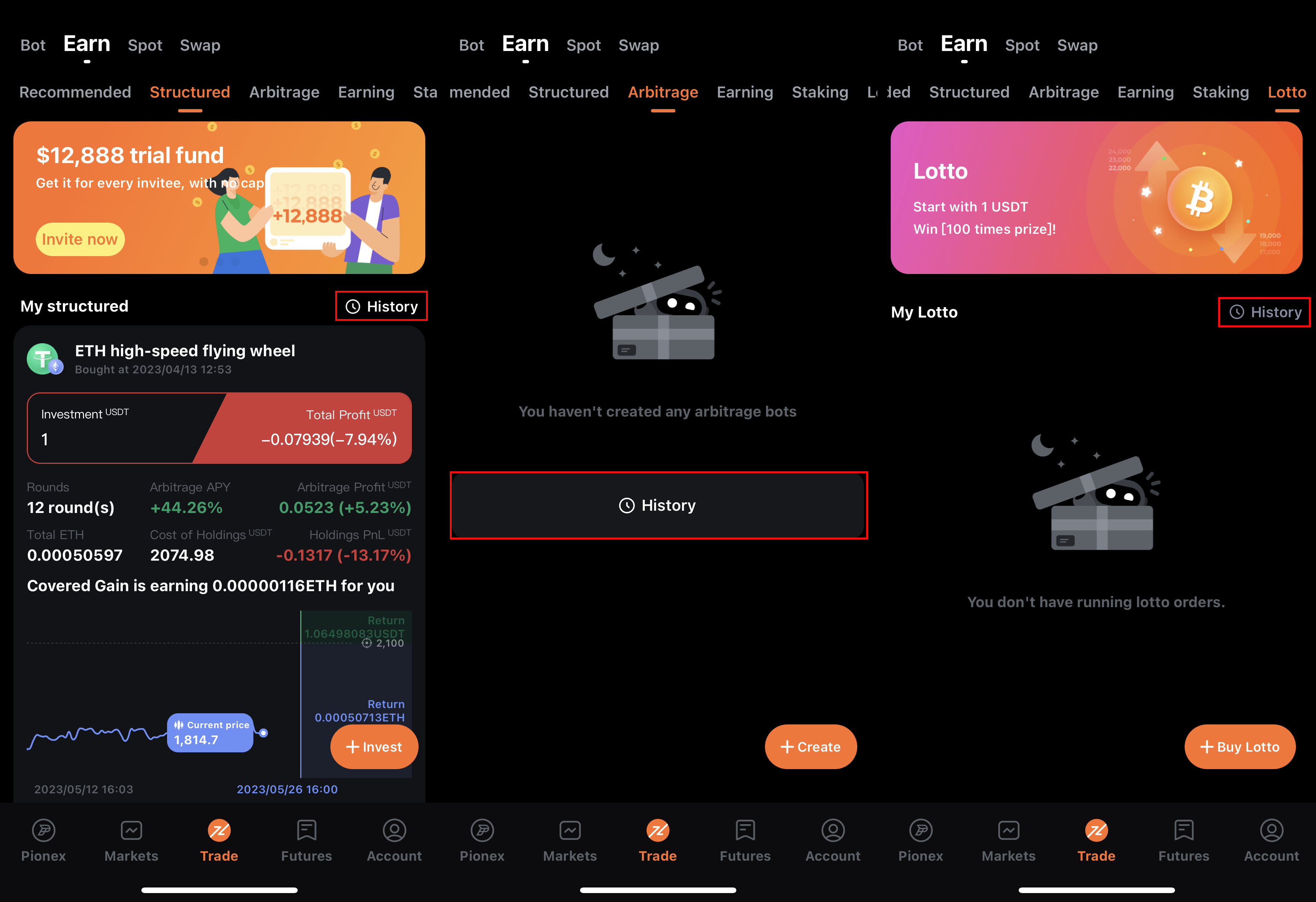 FAQ
How do I check Small balances and convert history?
You can view a small balance (less than the equivalent of 10 USD) on "Trade", And click "Dust Collector" to quickly exchange your holdings into USDT.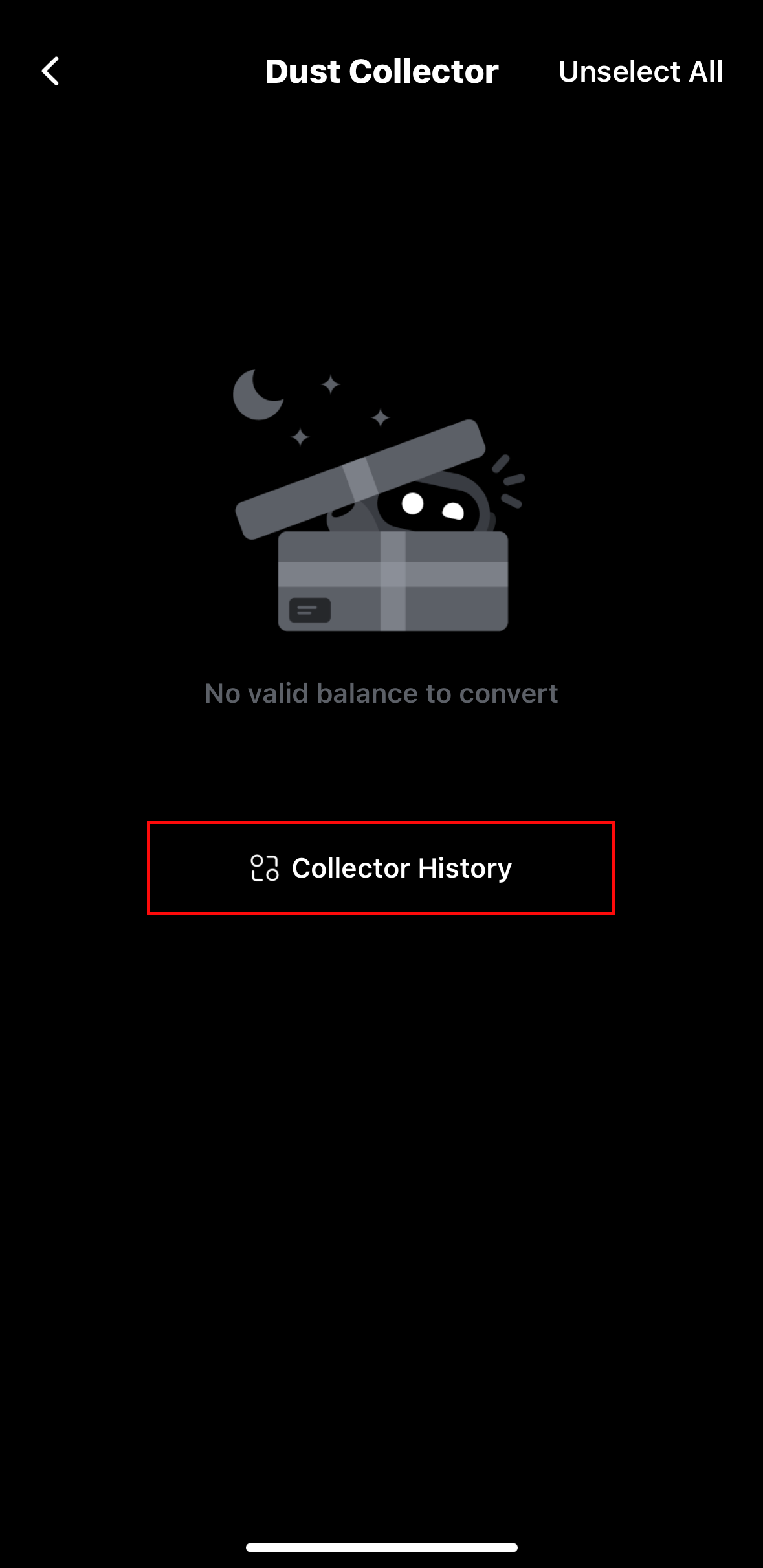 Why do my holdings get lost?
Here are two common situations:

1) Reverse Split of Leveraged Tokens
When the price of Pionex leveraged tokens falls below 0.05, or when the price fluctuates substantially below 0.05, the reverse split mechanism will be triggered. The reverse split multiples are generally 20, 50, 100 times, etc.
Let us take 50 times as an example. Before the reverse splitting, assume that the user holds 1000 leveraged tokens, the net value of the token is 0.03, and the corresponding asset is 30 USDT.
After the reverse split, the user has 20 leveraged tokens (1000/50=20), and the net value of the token is 1.5 ( 0.03*50=1.5); the corresponding asset is 30 USDT.

The reverse split will not affect the total assets, but it will reduce the number of positions. Therefore, it is not recommended to buy when the net value of the token is low. The price of the token can continue falling due to reverse splitting.

2) Support token Rebrand/Replacement process
Pionex may need to assist the token project in the replacement plan due to changes in the token name, main network update, etc. During the token rebrand/replacement period, the bot orders and manual orders of the corresponding trading pair will be canceled.
You can enter the "Announcement" page on Pionex to know the latest news.
What are "Hedge funds" in the Primary Account?
Hedge funds are the idle funds that may be generated when the Spot-futures arbitrage orders are created and closed. If you still have "hedging funds" after closing all Spot-futures arbitrage orders, please apply to us through the "Form" to transfer the funds to your "Trade" wallet to continue use.